I officially declared 2011 a Birthday Party Free Zone...no extensive lists of guests, no invitations and party favors. Instead, the kiddos get to take a friend to a place of their choosing. Andrew chose to take his friends Shawn and Ryan bowling followed by Yogurtland.
Andrew was pretty impressed with his bowling shoes. If they had offered to let him keep them, I'm sure Andrew would have jumped on the opportunity.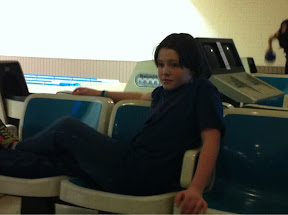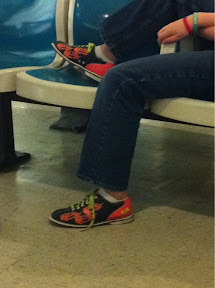 They all bowled for an hour, ate pink birthday cake leftover from a birthday party happening in the next lane over, and then dumped some money into the arcade. Andrew kept commenting on how much fun he was having--it was so great to see him really feel special.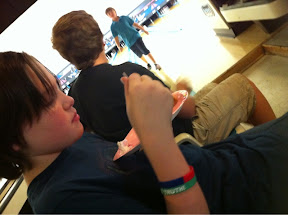 Yogurtland was nuts--busier than I've ever seen it--but all the kids did good. Andrew's friends spent the night, though I'm sure they didn't get much sleep. All in all, it was a very successful non-party.